In Memoriam: The Passing of Former Department Chair Floyd Rector, Jr., MD
Dear Colleagues: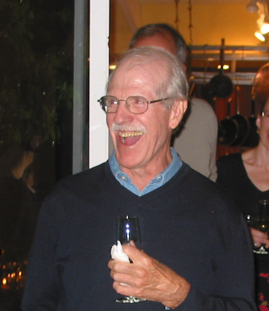 It is with a heavy heart that we inform you of the passing of Dr. Floyd Rector. Floyd died last month at his home in Sausalito, after a long illness. He was 93 years old. 
Floyd Rector grew up in West Texas and received his bachelor's degree from Texas Tech in Lubbock. He attended medical school at the University of Texas Southwestern in Dallas, where he also completed his residency in internal medicine. After a two-year stint at the NIH in the Laboratory of Kidney and Electrolyte Physiology, he returned to UT Southwestern as a faculty member and, in 1996, became chief of the Division of Nephrology. Floyd was in the Parkland Hospital ER when President Kennedy was brought in after being shot.
In 1973, Floyd was recruited to UCSF by legendary DOM chair Holly Smith, to become chief of our Division of Nephrology at UCSF Health and senior scientist in the Cardiovascular Research Institute (CVRI). As Floyd later recalled, "I found this to be a very attractive offer. The overall intellectual atmosphere of the Department of Medicine was a very high level…. I knew several outstanding scientists in the CVRI, and the opportunity to interact with them was very appealing." He was also enticed by the opportunity to collaborate with the divisions of nephrology at San Francisco General Hospital, led by Mike Humphreys, and the VA, where the chief was Barry Brenner. He and Brenner would go on to launch a textbook, now known as "Brenner and Rector's The Kidney," widely considered the world's leading nephrology reference book (currently in its eleventh edition).
Floyd's own research focused on elucidating the active transport process in the proximal tubule, research that led to a much deeper understanding of renal handling of sodium, potassium, chloride and bicarbonate. His lab was the world leader in employing the cutting-edge technique of micropuncture to understand clinical electrolyte and acid-base disorders. His UCSF colleagues and mentees included many individuals who went on to influential careers of their own, including Robert Alpern, later the dean of UT Southwestern and Yale Medical Schools, David Warnock, later chief of nephrology at the University of Alabama, Patricia Preisig, a prominent Yale researcher, as well as our own Christine Berry, Marty Cogan, Harlan Ives, David Pearce, Morrie Schambelan, Alan Verkman, Flavio Vincenti, and Michael Weiner. This note from Bob Alpern beautifully captures what made Floyd so special:
While Floyd made many seminal contributions to our understanding of kidney function, the attributes that most distinguished him and for which he will most be remembered were his appreciation for science and its role in the advancement of medicine, together with his personal generosity as a mentor. Whenever I had an exciting experimental result I would run to Floyd's office, he would stop whatever he was doing, and we would discuss it for hours…. On clinical rounds he would spend hours discussing the scientific basis of a patient's clinical problem at the highest level, to the point that renal fellows loved rounding with him, and residents and fellows were sometimes dazed wondering what he was talking about. This trait inspired many mentees who would carry this tradition forward, each of whom contributed to the transformation of the field of nephrology.
In 1989, Floyd became the sixth chair of the UCSF Department of Medicine, following Richard Root. He served in this role until his retirement in 1995, when he was succeeded by Lee Goldman. His tenure as chair came during a period of relative stability for our department – it preceded the tumultuous years of the UCSF-Stanford merger and de-merger and the acquisition of Mission Bay, though the managed care movement was beginning to gain steam. Floyd's leadership fit the times – he was a warm and popular leader who was committed to improving the environment for the people in the department, whom he cared about deeply. As his colleague Henry Bourne said, "I remember mostly a sense of immense curiosity, enjoyment, and generosity directed at almost everyone he knew." Added David Pearce, "He had a wry sense of humor and, although intimidating, he never took himself overly seriously." Floyd once told Michael Weiner, "These are the good old days."
Floyd garnered virtually every honor available in the field of nephrology, including the Donald W. Seldin Award of the National Kidney Foundation, the A.N. Richards Award of the International Society of Nephrology, the Robert W. Berliner Award of the American Physiologic Society, and the Homer W. Smith Award of the American Society of Nephrology (ASN) – the highest scientific award in the field. He was president of the ASN from 1976-77, received the Distinguished Alumni Award of Texas Tech University in 1987, and was an elected member of the American Society of Clinical Investigation and the American Association for the Advancement of Science.
I (RMW) had the opportunity to serve as medicine residency director under Floyd (from 1992-1995), and I recall his commitment to academic excellence and to our trainees – and, yes, his wry sense of humor. With his support, we strengthened our subspecialty training experiences and created a robust program to promote resident research. After his retirement, the Department of Medicine launched the annual Floyd Rector Residency Research Symposium, which highlights the scholarly work of our residents, including basic and clinical research, innovations in medical education, and quality and leadership projects. "What I most remember," recalls Lee Goldman, "was how proud he was of the Rector Symposium, which he never missed, because it symbolized the department's commitment to his own passion of training physicians who would advance medicine and medical science."
On top of his robust academic career, Floyd had an equally fulfilling life outside the workplace. He and his wife Marge (they met in high school) lived in a beautiful house in the hills overlooking Sausalito and built a second home in Woodacre. He was an avid golfer, tennis player, guitar player, sailor, and, after retirement, he studied calculus… for fun! He was a committed family man who loved spending time with his three daughters, four grandchildren, five great-grandchildren, and Marge, a talented artist whose work Floyd loved to show off. She passed away in 2019.
While we mourn the passing of Dr. Floyd Rector, we also celebrate his legacy of discovery, mentorship, warmth, and joy. He lived an exemplary life as an academic physician, and we are privileged that he spent so much of it at UCSF.
Sincerely,
Robert M. Wachter, MD
Chair, Department of Medicine
Chi-yuan Hsu, MD, MSc
Chief, Division of Nephrology, UCSF Health