The Department of Medicine has been the number one recipient of research dollars from the National Institutes of Health (NIH) among all departments of internal medicine in the nation (in 2011, we were ranked second). Including all sources, we currently receive more than 1,100 grants, fellowships and contracts totaling more than $200 million.
#1
TOP RECIPIENT OF FUNDING FROM THE NATIONAL INSTITUTES OF HEALTH (NIH) FOR U.S ACADEMIC DEPARTMENTS
1100+
GRANTS, FELLOWSHIPS, & CONTRACTS
US News & World Report also ranked UCSF Medical Center as the 5th best hospital in the nation and the best in the western U.S.--with 6 specialties from the Department of Medicine ranking in the top 10 in the nation: nephrology (5th), pulmonary (6th), rheumatology (7th), diabetes and endocrinology (7th), oncology (10th), and geriatrics (10th). In addition, gastroenterology and cardiology were both ranked in the top 25. The department's continued success in this highly competitive arena attests to the quality and impact of the research performed by its basic and clinical scientists.
UCSF is a recognized leader for developing superior clinicians and scientists and has developed a national reputation for excellence in residency training in primary care, general internal medicine and numerous medical subspecialties. A dedicated faculty, an outstanding blend of academic and clinical training, exposure to nationally-recognized generalists and sub specialists and a supportive environment provide residents with the opportunity to truly excel in their fields.
The training and education of residents are integral components of the Department of Medicine. Residency, the years of clinical training immediately following the completion of medical school, is a formative time for young physicians. During these years residents learn not only the basics of patient care, but also leadership skills, research methods, cross cultural competence, professionalism, and communication skills. In addition, residents form critical relationships with mentors who will help them realize their potential. The Program is home to the top residents in the country. Applicants are attracted not only by the extraordinary breadth of research and clinical faculty, but also by the diversity of San Francisco's population. While being a leader in both clinical and basic science research, UCSF is also a model of community service and provision of care to under-served communities.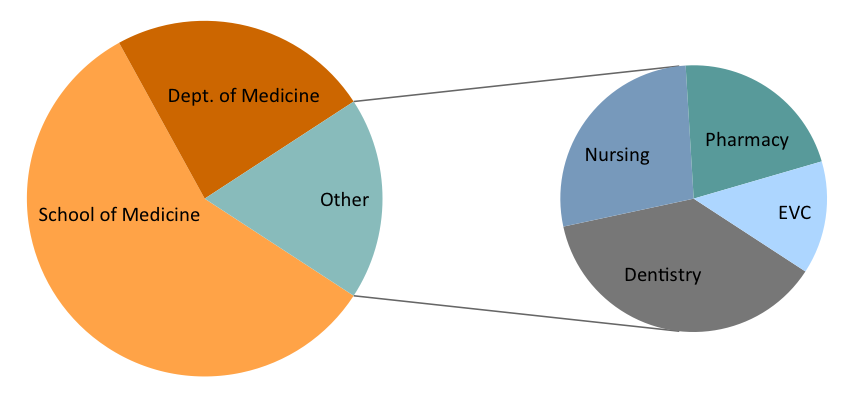 The Department of Medicine's NIH awards make up 22% of the UCSF total, and 26% of the School of Medicine.