DOM Educational Programs: Innovations and Updates
Education is central to the mission of the DOM, and our large, complex educational ecosystem includes students, residents, fellows, faculty, and staff across many health systems. Under the leadership of Associate Chair for Education Brian Schwartz and Administrative Director of Education Kim Koenigsberger, we are working across programs and sites to break down silos, share best practices, and solve similar challenges. Priorities include identifying system-based approaches to increase work efficiency and gaining access to data to allow learners, teachers, and education leaders to better understand strengths and weaknesses at the learner and program level. Take a look at some of the recent innovations and updates happening across our educational programs.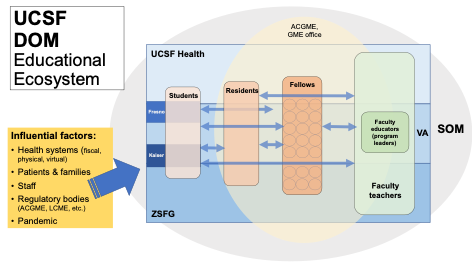 Medical Student Education
The Foundations 1 (F1), pre-clerkship phase of the Bridges Curriculum has returned to in-person learning! Cindy Lai and Justin Sewell led the redesign of Physician Identity Weeks, which focuses on five key themes and roles relevant to physician identity creation.
The SOM's Anti-Oppression Curriculum Initiative (AOCI), now entering its second year, focuses on evaluating the four-year medical school curriculum through an anti-racist, anti-oppressive lens. The AOCI team is led by Denise Connor and includes Denise Davis, Mia Williams, Kate Lupton, and Michelle Guy, as well as colleagues from other departments. The resources and tools they've developed, such as the AOCI Resources for the Clinical Learning Environment, The Inclusive Skin Color Project, and the AOCI Curricular Review Tool, are useful for faculty teaching medical students, residents and fellows. 
The Internal Medicine Clerkship was the top-rated Foundations 2 rotation in the School of Medicine this past year, thanks to the outstanding teaching and support provided by residents and faculty. New leaders have joined Student Programs: Katherine Brooks (co-director for the Model ZSFG clerkship), Iris Huang (PISCES medicine clerkship liaison), and Binh An Phan (site director for core medicine rotations at ZSFG). The clerkship has developed new curricula to promote patient advocacy and health equity and is working closely with the AOCI team to optimize the clinical learning environment. DOM teachers are encouraged to review the SOM's best practices in Equity in Assessment.
Internal Medicine Residency
Residents and faculty have worked hard to reinvigorate opportunities to get together. Both Morning Report and Morbidity and Mortality Conference are now in-person at all three sites. The residency is sponsoring a series of outdoor dinners at faculty homes to promote community building between faculty and residents. (Faculty interested in hosting an event can reach out to Alyssa Perez, our new APD for Assessment and Well Being.) Jesse Ristau recently joined the residency as the chair of the Clinical Competency Committee.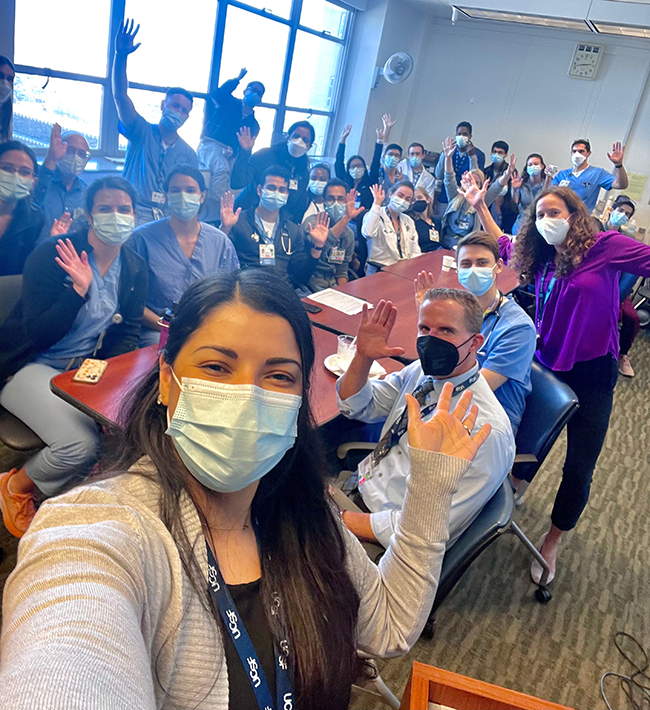 Fellowship Education
The DOM hosts 20 ACGME and 18 non-ACGME fellowship programs. The Fellowship Program Committee, chaired by Gerald Hsu, is creating community building opportunities for fellows. In July, all incoming DOM fellows came together where they were welcomed by Bob Wachter, led in a community building workshop on differences matter by Sarah Alba-Nguyen and program directors, and enjoyed some social time at SPARK SF. At UCSF Parnassus, a new Fellow Hub offers a space for fellows to work side-by-side.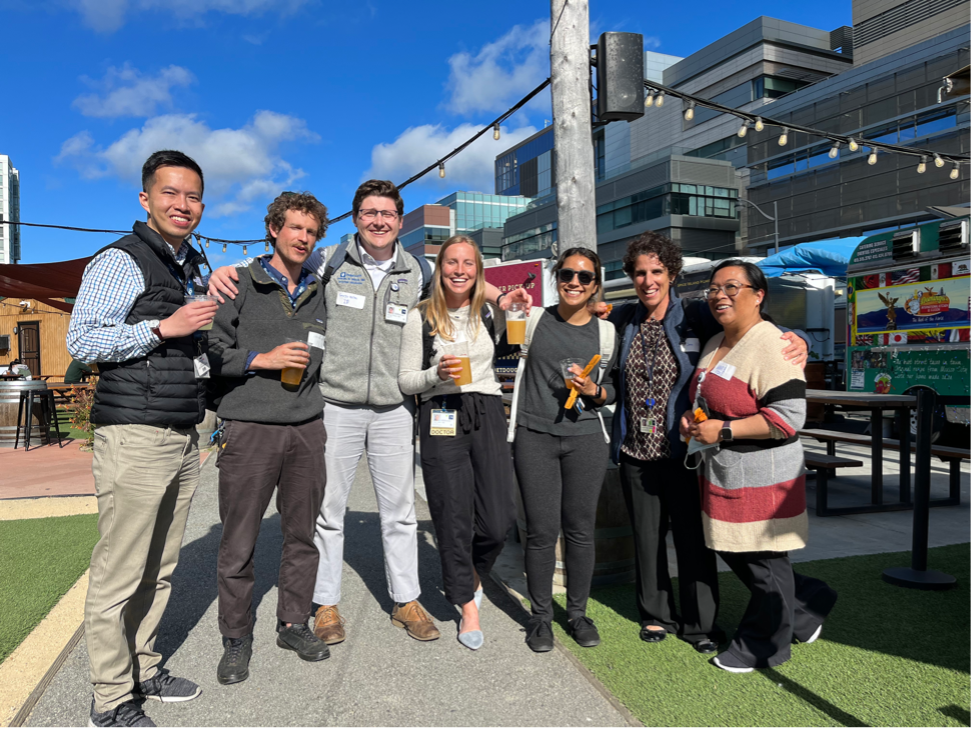 Supporting Teachers
The DOM Program for Clinician Educator Success (PRO-cess) supports the more than 200 DOM faculty members interested in education or teaching as a part of their careers. While joyful and rewarding, this path can be unclear. Led by Anna Chang, Brian Schwartz, Bridget O'Brien, Stephanie Rennke, and Vanessa Thompson, DOM PRO-cess supports clinician-educators in mentorship, community building, and skills development in areas like education scholarship. If you have a hand in training the next generation of physicians, or would like to, take a look https://domprocess.ucsf.edu/home and join us by completing this survey.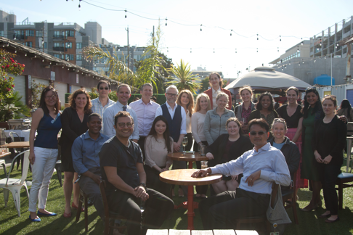 Scholarship in Medical Education
Scholarship and research advance our collective understanding of theory, innovations, and best practices while we educate future physicians. Bridget O'Brien joined the DOM PRO-cess team to support the journey of education scholarship by providing 1:1 consultations, skills-building workshops, and recommendations for additional resources. Some recent publications in medical education from DOM faculty:
Klein R, Ufere NN, Schaeffer S, Julian K, Rao SR, Koch J, Volerman A, Snyder ED, Thompson V, et al. Association Between Resident Race and Ethnicity and Clinical Performance Assessment Scores in Graduate Medical Education. Acad Med. 2022;97(9):1351-1359.

https://doi.org/10.1097/ACM.0000000000004743

O'Brien BC, Zapata J, Chang A, Pierluissi E. Bridging medical education goals and health system outcomes: An instrumental case study of pre-clerkship students' improvement projects. Perspect Med Educ. 2022;11(4):179-186.

https://doi.org/10.1007/s40037-022-00711-1

Santhosh L, Rojek AE, Yim JWL, et al. Analysis of Narrative Text in Evaluations of Continuing Medical Education Faculty by Gender. JAMA Netw Open. 2022;5(8):e2227948. Published 2022 Aug 1. https://jamanetwork.com/journals/jamanetworkopen/fullarticle/2795495
Supporting Education Staff
As we navigate our new hybrid work environment, staff can build community and share best practices through monthly program administrator meetings and daily interactions on Teams. The Fellowship Program Administrator Advisory Council was launched to amplify program administrator voices and act as a resource. Additionally, through the collaborative efforts of DOM programmers and education staff, we have made great progress on automating and streamlining administrative processes to improve our evaluations, recruitment, and residency scheduling systems. We are thrilled to be growing our education staff and if you know someone who might be a good fit, contact Kim Koenigsberger.
Brian Schwartz, MD
Associate Chair for Education
Kim Koeningsberger
Administrative Director of Education
Robert M. Wachter, MD
Professor and Chair, UCSF Department of Medicine
Holly Smith Distinguished Professor in Science and Medicine
Marc and Lynne Benioff Endowed Chair