The Future of Work in the Department of Medicine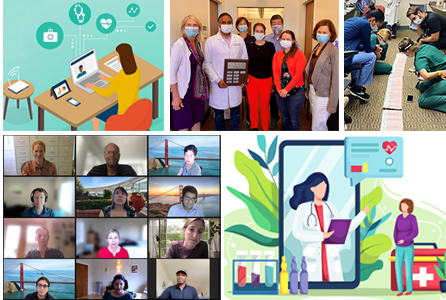 The events of the past two years have touched and traumatized all of us. Everyone in our department – and, indeed, the world – has been forced to absorb so much loss and uncertainty. Whether the topic is Covid, climate, racial justice, or Afghanistan, there is much to mourn and much to fix.
Yet we are a resilient community, and a resilient species. The trials of 2020-21 have left scars, but they also are the grit that makes the pearl – driving innovations that simply would not have been possible in our pre-2020 worlds. It is worth celebrating these, and to build on our experiences as we plan the future of our lives… and of our work. In this note, we'll make a few observations about our response to the events of the past two years, and what they mean for the future of the Department of Medicine.
It is natural to ask when things will get back to "normal." The answer is that they won't, and in some cases, they shouldn't. Our challenge is to take the lessons of our recent past and use them to build something even better. And while this change may create a few concerns and unknowns about the future of our work, it presents us with something wonderful – the opportunity to evolve.
Our recent history has amply demonstrated that we are not in full control of our destiny – nature sometimes has its own ideas. Yet it has also shown us that there is much that we can do to shape our world – San Francisco's extraordinary performance in Covid, with one-third the U.S. per capita death rate, vividly illustrates this. So too, we believe that we have the opportunity in the coming years to be intentional and strategic in redesigning our approach to work.
Think about telemedicine. Prior to March 2020, about 2% of our outpatient visits were conducted virtually. One month later, that figure was 70%, and in much of the DOM it remains at about 50%, well above the national average. While there were some payment and regulatory changes that facilitated the growth in televisits, what has been most striking has been the surprising level of acceptance among both clinicians and patients – most patient surveys show higher average levels of satisfaction after televisits than after in-person visits. We now need to be intentional about how to integrate telemedicine – and other types of virtual care – into our clinical plans. And we need to do this in a way that achieves quality, satisfaction, equity, and safety for our patients, while supporting clinician satisfaction, productivity, and well-being.
Or consider our recent Gallup Staff Engagement Survey results. Covid forced us to move our teams into remote and hybrid telework… and to do it on a dime, with zero planning. Many of us harbored prior assumptions that remote work would harm team cohesion, culture, and productivity. Yet, the Gallup survey showed that there were significant increases in our staff members' experience of feeling cared for, included and valued in decision-making, as well as of having their supervisors take a genuine and active interest in their professional development.
While all of us fervently hope that the pandemic becomes a fading memory at some point, these examples point out that it catalyzed new ways of doing things, many of which enhanced the experience of our people and our ability to succeed at our work. How do we embrace these changes and build on them, particularly when we are no longer forced to do so by a pathogen? And how many other innovations are out there, ready to be tried and implemented, if we can only open our minds and expand our imagination? Why depend on external forces to prompt change?
We've already seen some powerful examples of changes wrought by Covid that have taught us new ways of doing our work. Medical Grand Rounds is an example. In March 2020, we repurposed our Grand Rounds into a Covid session in which exceptional speakers brought us clinical, scientific, and policy updates in a lively virtual format. The results have been gratifying – each session is viewed by 500-2500 people live, and the entire series has been viewed more than 2 million times on YouTube. Based on this experience, we're in the process of reimagining Grand Rounds to create a must-see hour each week for audiences at UCSF and around the world.
Another example is the successful implementation of videoconference interviews for our residency and fellowship programs, which has been shown to reduce the financial burden on applicants by as much as 50%, and level the playing field for all trainees. Our DOM programs developed wonderful video introductions and other new ways to connect with those interested in exploring UCSF. The quality of our applicants was exceptionally high, and we enrolled our most diverse residency classes ever, with over one-third of the class coming from groups underrepresented in medicine.
COVID also taught us that science could happen much faster than we thought. Our DOM colleagues rolled out public health campaigns, clinical trials, and new diagnostic approaches at an unprecedented pace. Our faculty, staff, and trainees forged new relationships with each other and with our communities that will endure and continue to support the health of the public. We engaged in new modes of teaching, enjoyed team-building events over Zoom (solving murder mysteries together, for instance), and even tapped into our inner creative!
In the months ahead, we are committed as a department to continue examining our assumptions, expectations, processes, and structures as we consider new ways to do our work. Many of these will relate to the nature and extent of remote work – it's clear that we have much to learn. To that end, we have formed a DOM task force to develop guiding principles and recommendations, and as one outcome of their work have asked each division chief and manager to design a telework model that best meets their division's specific needs. We will review all plans to ensure consistency among our units, equity, sustainability, flexibility, and the highest possible workplace satisfaction.
There are so many more areas in which fresh new approaches can yield tremendous gains. And "new" doesn't necessarily mean that it's never been used anywhere. We have seen many innovative and successful approaches discovered by our divisions – our goal then is to identify these and disseminate them. Some of our faculty, staff, and trainees bring ideas from other institutions, or from other industries. All of these are fair game as we work to promote innovation and change. At the department level, we'll do our part to help – by supporting learning and development programs, by creating additional forums for sharing of ideas (in person and on-line), and by… well, who knows. Even organizing how we innovate is an area ripe for innovation!
We welcome your ideas and hope you'll join us with optimism as we craft the future of our work and of our department. We know that it will require patience, grace, and openness to the results of our experience and to the occasional failure. And if there is one thing we have learned already over the past 18 months, it is that the DOM community has an abundance of these attributes. Let us continue to redefine and reimagine our work to make it as safe, productive, and joyful as it can be.
Bob Wachter
Professor and Chair, Department of Medicine
Maria Novelero
Associate Chair of Administration, Department of Medicine