Master Clinician: Lisa Winston, MD
Keep Getting Better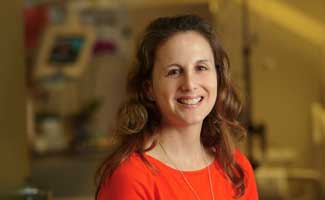 "I love talking to patients," says Lisa Winston, MD, a hospitalist and infectious diseases specialist. "By investing time in the relationship and building up enough trust, we can get the real story. To hear them describe their illnesses, and then hopefully be able to reassure them and turn those stories into something that makes sense from a medical perspective, is a privilege."
Winston cares for inpatients at San Francisco General Hospital (SFGH) four months a year, both as a primary medicine attending and as an infectious diseases consultant. As SFGH's vice chief of inpatient medical services, she has improved patient care and educational opportunities for trainees. She also serves as SFGH's hospital epidemiologist, helping reduce hospital-associated infections such as Clostridium difficile.
In addition to her formal duties, residents and faculty stop by Winston's compact office each day to discuss challenging cases. "As a master clinician, she brings a confident clarity that systematically sorts through complex cases, discarding the chaff to identify and hold on to the kernels that represent the essence of the case," says Jeffrey Critchfield, chief of the Division of Hospital Medicine at SFGH.
Winston also lectures widely throughout the Bay Area, and greatly enjoys helping trainees learn and apply new knowledge. She recalls her own formative experience as a second-year resident, when Henry "Chip" Chambers, MD, former chief of the Division of Infectious Diseases at SFGH, asked her to serve as the infectious diseases point person over the weekend. "Chip said, 'Don't worry, you can call me,'" says Winston, recalling her apprehension. "I paged Chip multiple times - he was incredibly patient and talked me through all the stuff. At the end of the weekend, I felt that the next time I would be able to do it with a little more confidence and grace."
Chambers became one of her many mentors. "Chip is a minimalist," says Winston. "One of the wisest things he taught me is, 'Do no harm.' He's definitely pushed me to think about the consequences of our recommendations and potential side effects." This has become especially important in an era of increasing resistance to antibiotics. "The [antibiotic] pipeline is not as robust as the organisms are creative and resilient, and when you run out of drugs to give a patient, it's very sobering," she says.
She is honored to join many of her mentors as a master clinician. "They're all very caring and invested in the patients, they are collaborative, and they are all extremely intellectually curious," says Winston. "They want to keep getting better. The most important thing is that it's a journey."
Winston is married to Phillip Kennedy, MD, a hospitalist at California Pacific Medical Center. Together they have 12-year-old twin girls, Clara and Allison, and enjoy taking family hiking trips.