Master Clinician: Joseph Roll, MD
Never Give Up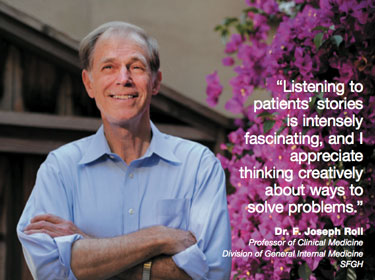 As an internist and liver specialist at San Francisco General Hospital (SFGH) for more than 30 years, F. Joseph Roll, MD, has cared for patients struggling with big challenges, including psychiatric disease, addiction and homelessness. Yet no matter how difficult their situations, he finds quiet joy in helping them.
"Listening to patients' stories is intensely fascinating, and I appreciate thinking creatively about ways to solve problems," says Roll. "I try to accept where they are, and get some clues about what they would rather be doing. Most people want a more stable life, and if you give people time and opportunities, they naturally try to approach better health. Often the answer comes from the patient."
After finishing his fellowship training in hepatology and pathology, Roll was recruited to SFGH in 1981 as assistant director of the Rice Liver Laboratory. He investigated the scarring process that occurs in liver fibrosis and cirrhosis, as well as factors involved with alcoholic liver disease. Roll also treated hospitalized patients and those visiting the SFGH Liver Clinic, eventually transitioning to providing clinical care full-time.
For 11 years, Roll was the medical director of SFGH's Emergency Department Case Management Program. This innovative program helps patients who frequently visit the emergency room, making at least five ER trips per year and sometimes up to 75 visits annually. The program connects them with a team, including a nurse practitioner, psychiatrist, medical doctor and social workers, to address underlying causes of their health crises.
"It is an amazing project, and the social workers are really trained to figure out interventions to help them," says Roll. The team often visits patients wherever they are living, whether it is under a freeway or in a shelter. "It gave me insight into the tough circumstances that people live in, and how unsafe and traumatized they can be," says Roll.
Despite these grim conditions, Roll keeps an open mind. "One of the things that graduates of the program have said is how much they appreciate that we never gave up on them," he says. "You see people making big changes in their life – kicking their drug habit, going back to school." The team recently helped a patient in his 70s who had been homeless for decades find housing.
"He embodies commitment, compassion, clinical astuteness, humility and kindness," says Dean Schillinger, MD, chief of the SFGH Division of General Internal Medicine. "Joe is universally loved by his patients, and the residents' nickname for him – 'St. Joe' – speaks volumes. His unusual decision to transition from lab research into full-time primary care was particularly noteworthy, and capitalized on his penchant for working on complexity."
Roll recently retired to spend more time with his two grandchildren, but continues to train SFGH residents one afternoon a week. He is married to Joel Anne Chasis, MD, a hematologist/ oncologist who also recently retired from UCSF and Lawrence Berkeley National Laboratory.