Master Clinician: John Imboden, JR, MD
Better than Gold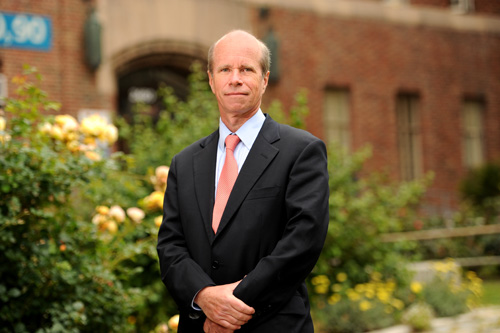 John Imboden, MD, recalls the limited tools he had at the beginning of his rheumatology career 30 years ago. "We had steroids – which had a lot of toxicity – and gold injections," he says with a rueful laugh.
The emergence of targeted drugs has transformed the field. "Now when I see someone with new onset rheumatoid arthritis, I'm thinking, 'I want to get a long-term remission,'" says Imboden, chief of the Division of Rheumatology at San Francisco General Hospital (SFGH) and holder of the Alice Betts Endowed Chair for Research in Arthritis.
As the point person for rheumatology referrals from safety net clinics throughout San Francisco, Imboden fields nearly a thousand electronically submitted referrals to the SFGH rheumatology clinic each year. "If it looks like someone has new rheumatoid arthritis or another rheumatic disease, we'll see them within a week or two," Imboden says. "If we start treatment early, we can really have a positive impact."
"Dr. Imboden has built an extensive, interdisciplinary program focused around health disparities in the rheumatic diseases," says David Wofsy, MD, George A. Zimmermann Distinguished Professor of Medicine and Microbiology/Immunology and the former chief of rheumatology at the San Francisco Veterans Affairs Medical Center (SFVAMC). "He has… made cutting edge experimental therapies available to patients who would not otherwise have access."
Imboden and colleague Jonathan Graf, MD established the Rheumatoid Arthritis Observational Cohort Study, which has enrolled 650 diverse patients at SFGH and UCSF Medical Center and has facilitated research at UCSF on this important disease.
In addition to rheumatoid arthritis, Imboden also cares for patients with lupus, gout, scleroderma, vasculitis and other rheumatic diseases. He is renowned for his abilities to perform a thorough physical exam, a skill he cultivated partly in response to a medical school experience, when he overlooked a patient's enlarged spleen. "The then-chief of rheumatology came in, examined the patient, and found the spleen – in front of two rheumatology fellows, several residents and interns, and me," says Imboden. "If you miss something and somebody points it out to you, it really encourages you to be vigilant. I haven't missed too many spleens since then!"
Imboden spent much of his career researching the activation of T cells, a type of white blood cell that plays an important role in immune response. "My scientific background has been helpful in cultivating a certain rigor in the way I think, in terms of getting data exactly right," he says. This approach helps him do the detective work when investigating unusual forms of rheumatic disease that might be symptoms of another condition.
In his spare time, Imboden enjoys reading about World War II history, and aspires to break 80 once again in his golf game. He is married to Dolores Shoback, MD, an endocrinologist at the SFVAMC; they have two grown children.