Master Clinician: Helen Kao, MD
Embracing the Story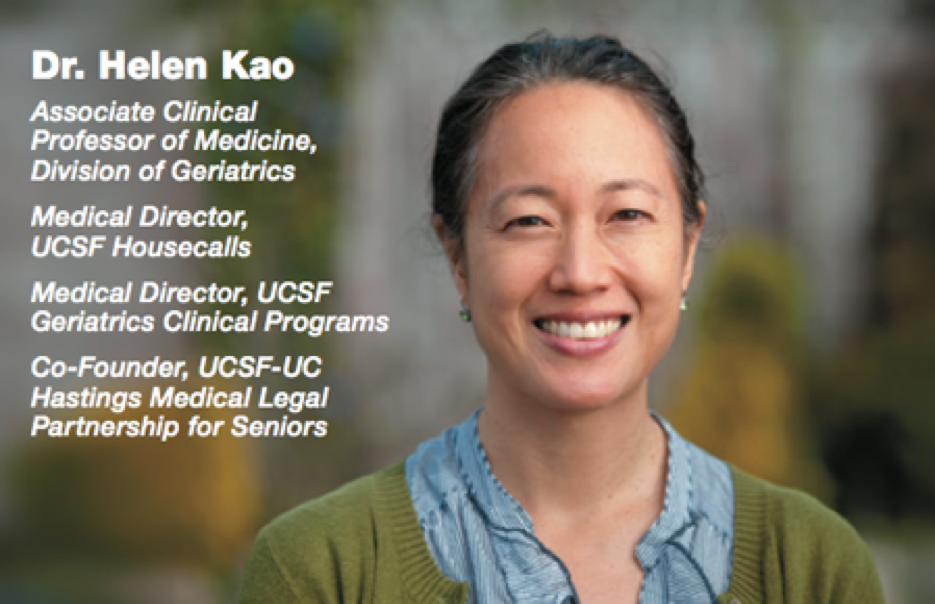 "The final years of life often come with difficulties, including physical or cognitive decline," said geriatrician Helen Kao, MD. "I try to help my patients live rich lives, make their disabilities more tolerable, and prepare them for the last step of their journey."
Growing up, Kao loved stories and dreamed of becoming a writer. But after college, she worked at the Harvard School of Public Health for a doctor who encouraged her to become a physician. As a medical student and resident at UCSF, her fascination with life stories drew her to geriatrics, which she describes as "very story-driven."
"What I do is 50 percent medical and 50 percent everything else," said Kao. For example, for a dementia patient with balance problems who loved to bowl, she found a disability bowling league near his hometown. "Just like I need to understand what a medication does, I need to know what's available in someone's community to optimize their well-being," said Kao. "I really like digging into that."
She has a particular interest in dementia, which affects a growing number of seniors and impacted her own grandparents. "If the patient is not disturbed by their hallucinations, we encourage caregivers to be in their loved one's reality," said Kao. "It's much less distressing than constantly telling them, 'No, it's not 1942,' or 'There are no airplanes in the house.'"
Her accomplishments include co-founding the UCSF-UC Hastings Medical Legal Partnership for Seniors, which trains law students how to handle legal issues affecting elders' health, such as end-of-life treatment. She also served as medical director of the UCSF Housecalls program and founded the UCSF Geriatric Transitions program (later reconfigured into UCSF Bridges).
These programs provide primary, transitional and palliative care to homebound patients, and mobilize quickly if a team member notices a potential health crisis brewing. "I can ask my nurse practitioner to do an urgent visit, get my patient care coordinator to reach out to the home health agency, and have my social worker initiate an intervention – all of which seamlessly unfolds within 24 hours and averts the patient having to go to the emergency room," said Kao.
"Dr. Kao possesses exceptional skills as a compassionate and caring clinician and is a pioneer in health systems innovation, working tirelessly to improve how we care for our frailest, most vulnerable patients," said Louise C. Walter, MD, chief of the Division of Geriatrics.
One piece of advice has been particularly helpful in building these programs: do things in series when you cannot do them in parallel. "Don't try to do everything at once," said Kao. "Do things sequentially if that's the only way to accomplish them."
She is now applying that advice in a new arena. In July, she moved to Corvallis, Ore., to join her new husband, emergency room physician Gabriel Ledger, MD; they are expecting their first child. Kao continues to serve as a UCSF volunteer faculty member, works part- time at Oregon Health and Science University, and hopes to build a geriatrics and dementia care program in the Corvallis area.