Master Clinician: Daniel Null, MD
Trust and Collaboration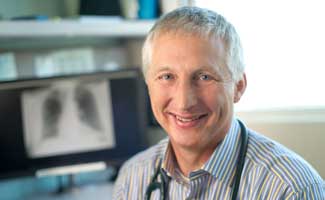 Dan Null, MD, grew up on a farm in Pennsylvania, helping his family raise chickens, cattle and alfalfa. That work ethic serves him well as an internist with more than 1,000 patients - including many UCSF faculty and staff.
Earning the trust of his patients is the foundation of all his work. "You do it the way you establish any other kind of important long-term relationship," says Null. "Give them your attention, show them respect and make eye contact. Being patient is an essential quality. Sometimes you've just got to wait a little bit longer for a patient to reveal what it is they need to reveal. At the same time, you need to think as you're listening. Even as the patient is letting the story unfold, you're already formulating your follow-up questions."
Null identifies what motivates each patient, and helps him or her set realistic goals. "For example, with obesity, we look at the chart and see that their weight has been going up incrementally," says Null. "I always tell people, the first measure of success is if you stop gaining weight. That's a victory! Let's do that and celebrate that, and then we can work on additional changes. It's important to break it down into manageable steps. What do they have the bandwidth to take in, in their busy lives?"
"He is willing to care for the most complicated patients, and always willing to go the extra mile," says Robert B. Baron, MD, MS, associate dean for Graduate and Continuing Medical Education. "His patients adore him."
Null has spearheaded behind-the-scene efforts to improve care for all primary care patients, including championing the implementation of APeX, UCSF's new electronic medical record system. "This has been the most disruptive, yet most beneficial transformation that I've experienced since starting medicine," says Null. "It's a tremendous tool for primary care and management of chronic disease. You can tilt the screen towards the patient and graph out their weight, or pull up images to talk about their ear problem. With MyChart, the patient portal, there's much more interaction with patients in between visits. I can manage someone's blood pressure through back-and-forth emails. If I had to do everything through phone calls, I couldn't come close to doing it."
He has also led the development of a team approach to care - an integral part of the patient-centered medical home, in which groups of doctors, nurses and other health professionals collaborate to provide integrated care to patients.
Null loves teaching trainees, and emphasizes the importance of collaborating with patients. "Put the options in front of patients and help them choose, as opposed to dictate what they're going to do," advises Null. "It's really a privilege to be allowed to help them with this very important part of their life."
Null lives in the East Bay with his partner, Karen Williams, an artist. He is an enthusiastic volleyball dad to his teenaged daughter, Gemma.