Innovative DOM programs support our researchers and their mission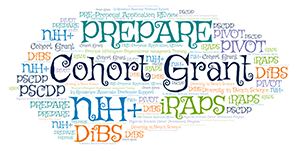 The UCSF Department of Medicine (DOM) is home to many impactful research projects conducted by some of the most brilliant scientists in the world. The Department's leadership recognizes the challenges faced by our researchers and is committed to improving the environment, infrastructure, and culture in the research environment. Led by Diane Havlir, MD (Associate Chair for Clinical Research) and David Erle, MD (Associate Chair for Biomedical Research), we have invested in several research support programs over the last few years. These programs aim to improve diversity, increase recruitment and retention, help launch careers, and improve access to funding. We have already seen promising results from many of these programs, and we look forward to more, as two new programs launch this year. Below, we summarize the new and existing programs.
PSCDP – NEW!
The Physician Scientist Career Development Program (PSCDP) is a new initiative sponsored jointly by the Departments of Medicine, Pediatrics, and Neurology. PSCDP was developed in response to a recommendation from a 2019 DOM Physician Scientist Pipeline Task Force, chaired by Kamran Atabai and Cathy Smith. The program's goal is to advocate on behalf of physician-scientists (with a particular focus on trainees and junior faculty) and to foster diversity, community, mentoring, and training across the three departments. Led by directors Alexandra Nelson, MD, PhD (Neurology, Director), Cathy Smith, MD (Medicine, Associate Director), and Sanjeev Datar, MD, PhD (Pediatrics, Associate Director), the PSCDP will begin its programming in the next few months.
PIVOT – NEW!
Launching in January 2022, Principal Investigator Organizational Management Training (PIVOT) is an interactive course that provides foundational guidance for faculty investigators preparing to launch their independent research programs. PIVOT has been designed to include didactics and case studies on the topics of the Research Ecosystem (interacting with UCSF Research Services and NIH partners); Organizational Management (leading and managing a team as PI); Human Resources (hiring staff and collaborating with HR); and Finance (budget projecting, saving, and spending). The program is a direct result of feedback collected during meetings with early career faculty investigators on challenges faced during the NIH K-to-R transition. A team of faculty and staff including Jennifer Chen, MD (Gastroenterology-ZSFG), Gabriel Chamie, MD (HIV, ID & Global Medicine-ZSFG), Laurae Pearson (Central Administration-ZSFG), and Jon Rueter, MBA (Research Administration-Medicine) developed the curriculum and will lead the workshops. PIVOT will accept applications from interested faculty members beginning later in 2021.
DiBS
The Diversity in Bench Science (DiBS) program provides three years of guaranteed salary support (from the division) plus $20,000 per year of research funding (from the DOM) to support individuals pursuing laboratory-based careers as physician-scientists who share and enhance UCSF's and the DOM's commitment to diversity. To date, the department and its divisions have committed to investing in seven DiBS scholars' lab-based career development. DiBS is directed by Neil Shah, MD (Professor, Hematology/Oncology-UCSF Health).
iRAPS
Launched in July 2016, the In-Residence Associate Professor Support (iRAPS) program aims to support faculty researchers by providing hard-money to them at a critical time in their careers. Since the program's launch, DOM faculty members promoted to Associate Professor in the In-Residence series have received $50,000 of salary support (plus associated benefits) for six years. Thus far, the department and divisions have invested a total of $11.7 million in an average of 35 faculty per year, which, according to a faculty survey, has led to increased productivity, higher morale, and improved faculty retention. One respondent commented:
"iRAPS funding has made it possible for me to secure the space I need for my research with a relatively small investment that I would not have had access to if I was completely dependent on federal funding to support my research operations. I also have front line staff that require ongoing training, and this funding makes it possible for me to support them in accessing this critical aspect of their roles. THANK YOU for this important support."
NIH+
Since 2019, the NIH+ program has provided DOM Professors and Associate Professors 20% of their capped salary support. Funding is available to faculty in any series, although some limitations apply for faculty with access to other forms of institutional support (including iRAPS). Funding can be used for any mission-related purpose, just like other UC discretionary funds. Since its inception, the program has invested $6 million in an average of 142 faculty members per year.
Cohort Grant
Started in 2013, DOM's Cohort Grant has provided junior faculty grants of up to $100,000 to initiate new patient cohorts or expand the use of existing cohorts into new areas. The goal is to develop cohorts that are widely used by both clinical and bench investigators and have high potential for sustained future funding. Thus far, the department has awarded sixteen grants totaling $1.6M to faculty members, fifteen of whom are still at UCSF. The cohorts developed with Cohort Grant support formed the basis for new extramural awards totaling $7 million in direct costs, and at least seven other grant applications have been submitted using these cohorts as preliminary data. According to surveys of the grant recipients, the funding has been overwhelmingly characterized as a game-changer for their careers. One awardee said this about the grant: "Of all the grants that I have received, this award has allowed me to be the most ambitious and forward-thinking and has best positioned me for my transition to independence and a long-term research career plan." The Cohort Grant selection committee is chaired by Karla Kerlikowske, MD (Professor, DGIM-VAMC) and staffed by Alyssa Tecklenburg, MBA (Central Administration-Chair's Office).
PREPARE
Launched in 2019, the primary mission of PRE-Proposal Application Review (PREPARE) is to improve funding success through pre-submission grant proposal review – "NIH study section style" – for faculty submitting NIH or foundation grant proposals. Fifty-five applications have been reviewed to date.  A pool of 96 reviewers representing diverse areas of research and expertise have signed up to review proposals, and reviewers are compensated for each review. R-Awards make up 52% of applications, and K-Awards make up 34%. Program participants also rate the program highly, with an average rating of 4.8 out of 5. One reviewee commented, "The PREPARE program is so great. I really appreciate the suggestions from the reviewers. They provided some different perspectives from my mentor…I will definitely use it again next time I apply for a grant." PREPARE is directed by Judy Hahn, PhD, MA (Professor, HIV, ID & Global Medicine-ZSFG) and Larry Fong, MD (Professor, Hematology/Oncology-UCSF Health) and staffed by Ilona Paredes.
We continuously evaluate the success of each research support program. One program that we piloted in 2019 was deemed to be less successful and was terminated. None of these programs would exist without the thoughtful feedback and input from our faculty. We are committed to continued investment in programs and initiatives to create a supportive and inclusive environment that allows all researchers to thrive.
More information on these programs can be found on the Department of Medicine's research website.