David Scarbeary-Simmons was named Division Manager of the Division of Prevention Science
Dear Colleagues,
Please join me in welcoming David Scarbeary-Simmons to our team! Effective Tuesday, March 24, David will serve as the new manager for the Division of Prevention Science, replacing Kitty O'Connor who retired at the end of February.
David and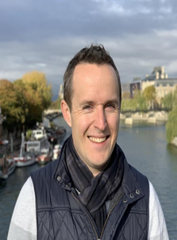 his husband moved to Berkeley in 2015 from New York City where he worked at Columbia University as Director of Student Financial Advising. He has over five years of experience with the University of California, having held roles at Berkeley and San Francisco campuses. In his most recent UCSF role, he served as Support Manager within the Controller's Office, overseeing data and project management as well as supervisory oversight of the Contracts and Grants Accounting Office at Children's Hospital Oakland Research Institute. David holds two master's degrees in public administration and management from the University of Colorado.
An avid runner, David is currently training to complete the Abbott Marathon Series with four of six marathons scheduled domestically and abroad in the fall of this year. In his spare time (when he's not putting in serious miles), he is a virtual coach with ScholarMatch, loves to travel, and spends time with his family, including his 8-year-old Westie.
Welcome aboard, David! We're excited to have you join the crew!
 
Sincerely,
Maria Novelero
Associate Chair of Administration