Master Clinician: James Brown, MD
Breadth of Excellence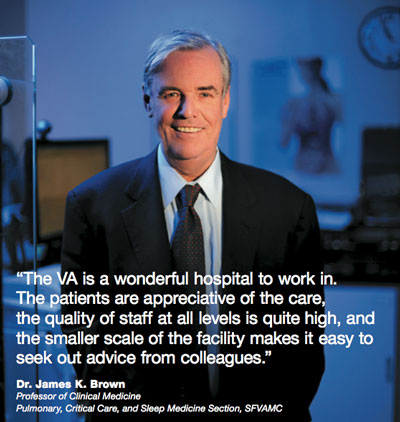 Pulmonologist James K. Brown, MD, says that the direction of his career depended a lot on two key transitions. After medical school and two years of residency at Johns Hopkins, in 1974 he moved to UCSF where he encountered inspiring teachers of pulmonary medicine. "Though Hopkins had provided outstanding training, I didn't hear much about lung diseases," says Brown. "UCSF was leading the growth of this subspecialty. The teaching in pulmonary medicine here was inspiring, as were the very committed investigators."
Brown completed his medicine residency, plus a year as a chief resident working under Lloyd H. "Holly" Smith, Jr., MD. He subsequently entered UCSF's pulmonary medicine and research fellowship program. Then came the second transition. "Dr. H. Benfer Kaltreider, chief of pulmonary medicine at the San Francisco Veterans Affairs Medical Center (SFVAMC) at the time, called me one day," recalls Brown. "He described the VA as the best kept secret at UCSF. After eventually moving to the VA, I came to agree. It is a wonderful hospital to work in. The patients are appreciative of the care, the quality of staff at all levels is quite high, and the smaller scale of the facility makes it easy to seek out advice from colleagues."
At the SFVAMC, Brown currently oversees a large outpatient pulmonary clinic, which provides care for about 60 patients weekly. He directs the pulmonary function laboratory and helps to coordinate care for patients with lung cancer including through regular attendance at a weekly multidisciplinary thoracic tumor board. He also directs the program for patients with sleep apnea, which affects about 20 percent of veterans, and, in 2011, co-founded a sleep laboratory with neurologist Graham (Alec) Glass, MD.
Brown serves as SFVAMC site director for the UCSF Pulmonary and Critical Care Medicine Fellowship Program. He cultivates a learning environment for trainees, organizing teaching conferences as informal talks, reviews of difficult cases and journal clubs. He has won teaching awards from residents and fellows and also attends in the SFVAMC's ICU.
"He artfully juggles a large and varied load of clinical responsibilities without losing focus on what is best for patient care," says George H. Caughey, MD, chief of the Division of Pulmonary, Critical Care and Sleep Medicine at the SFVAMC and the Julius and Lillian Nadel Endowed Chair. "Dr. Brown is an accomplished academic physician with a rare combination of skills and a stellar reputation as clinician and educator."
Brown conducts research on the causes of the abnormal growth of smooth muscle cells that occurs in the airways of patients with several pulmonary disorders.
In his spare time, Brown plays squash. He is married to Tish Brown, ADA coordinator for the Fine Arts Museums of San Francisco; they have three grown children.