Announcing Margaret Fang as the new chief of the Division of Hospital Medicine
Dear Colleagues: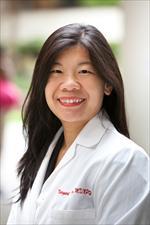 I'm thrilled to announce that Margaret Fang, MD, MPH, professor of medicine at UCSF, has accepted my offer to become the new chief of the Division of Hospital Medicine (DHM) based at UCSF Health. Margaret, who is currently co-interim chief of the division, will assume the position of chief on April 1.
Our DHM is generally considered the top academic hospital medicine division in the nation. It currently has over 150 faculty (making it the largest division in the Department of Medicine), staffs more than ten different clinical services, has a huge footprint in undergraduate and graduate medical education, has been a leading light in clinical innovation and improvement, has developed highly successful programs in areas ranging from clinical informatics to global health to social medicine, and runs a far-reaching research enterprise. It also has an unmatched track record of developing leaders in the DOM, School of Medicine, and our health system. 
Margaret is supremely well qualified to lead the DHM. She is a graduate of the Honors Program in Medical Education at Northwestern University's School of Medicine and was a resident at Harvard's Beth Israel Deaconess Medical Center. After residency, she completed an MPH at the Harvard School of Public Health and a general medicine fellowship at MGH. In 2003, she came to UCSF and quickly became one of the nation's leading investigators in hospital medicine. 
Margaret's research has been highly impactful, helping to inform clinical practice regarding anticoagulation for venous thromboembolism and atrial fibrillation. She has more than 125 publications in the peer-reviewed literature, and has been continuously funded during her time as a faculty member by agencies such as the NIH, AHRQ, and PCORI. She is the Principal Investigator of two major national cohort studies of patients with venous thrombosis, as well as a core investigator in the ATRIA study group, which investigates stroke and hemorrhage outcomes in patients with atrial fibrillation. She has received honors for her research, including the Excellence in Research Award from the Society of Hospital Medicine (SHM) and the Paul Beeson Career Development Award in Aging Research. She has also served as deputy editor of the leading journals in the fields of both hospital medicine and general internal medicine, and as the program chair for the Society of General Internal Medicine's annual meeting. 
In addition to her research, Margaret is a superb clinician, educator, and program leader. She is the medical director of the UCSF Anticoagulation Clinic, which manages hundreds of complex patients on anticoagulants. She has been DHM's research director since 2016, founded the division's works-in-progress ("incubator") program, and helped catalyze the development of the DHM Data Core, which provides support to faculty and trainees working on research and QI studies that involve EHR data. For the past decade, she has directed the UCSF Academic Hospital Medicine Fellowship program. Her list of mentees is a who's who of academic hospitalist leaders – much of their success can be credited to Margaret's coaching, mentorship in research design, and guidance with publishing and dissemination. In addition to research mentorship, Margaret is sought after for career mentorship and advice on personal-professional balance. 
Margaret is taking the helm of the DHM after Brad Sharpe stepped down last year for health reasons. I am grateful to Brad for his exceptional stewardship of the division and am pleased that he continues to contribute as a superb clinician-educator. I am also grateful to Brad Monash, who has served (with Margaret) as co-interim chief, taking primary responsibility for managing the division's large and complex clinical portfolio. He will continue in his role as DHM's Vice Chief of Clinical Affairs. 
Finally, I owe a huge debt of thanks to the DHM chief search committee, chaired by Steve Pantilat, chief of the Division of Palliative Medicine, for thoughtfully reviewing a very strong group of internal and external candidates.
This division, of course, is near and dear to me – I founded the UCSF hospital medicine program in 1996 and it became a formal division in the Department of Medicine about a decade later. I couldn't be more pleased to see Margaret assume the role of chief. I know that she'll take the division to even greater heights. 
Sincerely,

Robert M. Wachter, MD
Professor and Chair, Dept. of Medicine
Holly Smith Distinguished Professor in Science and Medicine
Marc and Lynne Benioff Endowed Chair in Hospital Medicine