Announcing the Appointment of Eleanor Bimla Schwarz, MD, MS as Chief of the Division of General Internal Medicine at ZSFG
Dear Colleagues:
We are thrilled to announce the appointment of Eleanor Bimla Schwarz, MD, MS as the Chief of the Division of General Internal Medicine at Zuckerberg San Francisco General Hospital (ZSFG).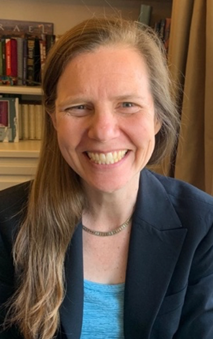 Dr. Schwarz is a general internist and health services researcher whose work centers on harm reduction and health promotion. She has a particular interest in identifying ways to better meet the needs of diverse, vulnerable populations, including women with chronic medical conditions and other underserved populations. Her research, which has been funded by HRSA, PCORI, AHRQ, FDA, NICHD, the Office of Population Affairs, and the Office of Adolescent Health, has produced over 150 peer-reviewed publications. An award-winning mentor, she has worked closely with multiple junior faculty on career development awards, as well as with a range of postdoctoral fellows, graduate and undergraduate students.
A proud product of California's public school system, Dr. Schwarz received her undergraduate and master's degrees from the University of California, Berkeley prior to receiving her medical degree from UCSF. She completed residency training in primary care internal medicine at UCSF, and a fellowship in women's health and health services research at the San Francisco VA. She is currently a professor at the University of California, Davis, where she directs the Quality, Safety, and Comparative Effectiveness Research Training in Primary Care fellowship. Prior to assuming her role at Davis, Dr. Schwarz served as Medical Consultant for California's Department of Health Care Services' Office of Family Planning, Senior Medical Expert in Reproductive Health for the U.S. Department of Veterans Affairs, and a member of the FDA's Advisory Committee on Reproductive Health Drugs.
Dr. Schwarz currently serves on the council of the Society of General Internal Medicine (SGIM) and recently led SGIM's Diversity Equity and Inclusion workgroup. She is an Associate Editor of three publications: NEJM Journal Watch, the Journal of General Internal Medicine, and Contraception, the official journal of the Society of Family Planning. Dr. Schwarz loves clinical teaching in both inpatient and primary care settings and is committed to encouraging consideration of the social determinants of health while fostering the growth of the next generation of clinicians and scholars.
Dr. Schwarz will lead UCSF's vibrant Division of General Internal Medicine at ZSFG, supporting its 30 faculty and 45 staff in providing high quality patient-centered care through ZSFG'sRichard Fine People's Clinic (RFPC), an adult primary care clinic that annually cares for 8,800 people. As home to the ZSFG Primary Care Internal Medicine Residency Training Program and the Primary Care Research Fellowship, the DGIM embraces innovation in medical education. With an annual research portfolio of over $10 million, the DGIM also values scientific discovery and advancing public policy to improve the health of vulnerable and underserved populations.
We would like to extend our deepest gratitude to Dr. Dean Schillinger for his previous leadership of the division, Dr. Neda Ratanawongsa for serving as the interim chief, Dr. Jinoos Yazdany, chair of the search committee, the other members of the search committee (Drs. Joan Addington-White, Kirsten Bibbins-Domingo, Jessica Chuang, Mitchell Feldman, Hali Hammer, Jeff Kohlwes, Kate Lupton, Anil Makam, Nynikka Palmer, Ma Somsouk, George Su, and Sheri Weiser), and Brooksley Bigart for coordinating the search.
Please join us in congratulating Dr. Schwarz on her leadership role, and welcoming her back to UCSF. She will begin her new role on September 1, 2021.
 
Sincerely,
Neil R. Powe, MD, MPH, MBA
Chief of Medicine, Zuckerberg San Francisco General Hospital
Constance B. Wofsy Distinguished Professor and
Vice-Chair of Medicine, University of California San Francisco 
Robert M. Wachter, MD
Professor and Chair, UCSF Department of Medicine
Holly Smith Distinguished Professor in Science and Medicine
Marc and Lynne Benioff Endowed Chair