The UCSF Primary Care (UCPC) Track is a three-year program designed to train leaders in general internal medicine. The UCPC Program was created in 1974 and is a leader in primary care training in the U.S.
UCPC residents learn to become socially responsible, skilled internists, and emerge as future leaders in academic general medicine, research, public health, public policy, advocacy, care of the underserved, education, health systems innovation, community-based primary care and the general medicine subspecialties (geriatrics, palliative care, etc). Spending more than half of their PGY2/PGY3 time in the ambulatory setting, residents receive rigorous, individualized general medicine training and a comprehensive didactic curriculum to build a foundation in clinical medicine, health systems and practice improvement. UCPC residents are mentored by program leadership and faculty within the UCSF Division of General Internal Medicine. The primary care residency is fully integrated with the Department of Medicine's other internal medicine residency programs.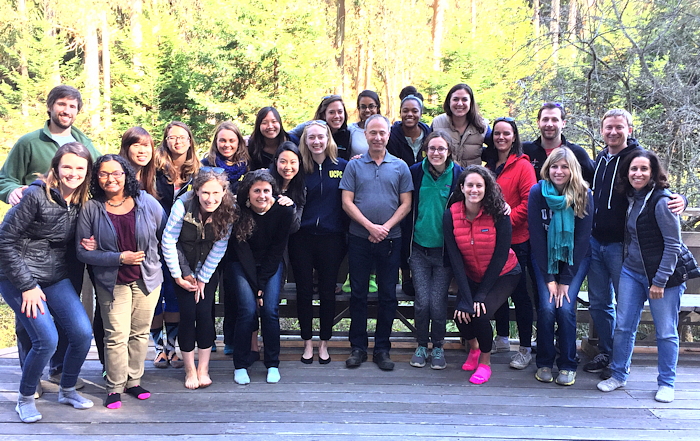 Applicants for UCSF Primary Care General Internal Medicine residency PGY I positions must register with the NRMP (National Resident Matching Program) and apply through the Electronic Residency Applications Service (ERAS). Students should check with their student or academic affairs office and the NRMP office for details. All applicants are required to electronically send an official medical school transcription, Dean's letter, a Department of Medicine Chairman's letter (or designated representative), two additional letters of recommendation from Department of Medicine or other Faculty, USMLE Board Scores (Part One), and a personal statement.
Interviews are arranged by invitation only. Interviews will be granted after all letters of recommendation and the completed application have been received and reviewed through the ERAS program. Applications must be completed by November 15, 2018. UCSF now requires applicants to have passed both the clinical knowledge and clinical skills sections of Step 2 by February 15th in order to be ranked by our program.
The NRMP Code number for the UCSF Primary Care General Internal Medicine residency is 1062140M0.
The UCSF Primary Care residency program is fully committed to enhancing the diversity of our program. Applications from women and under-represented ethnic/cultural groups are strongly encouraged.
Katherine Julian, MD
Program Director
UCSF Primary Care Residency Program
Additional questions may be addressed to Katie Mak-Cheng.
Katie Mak-Cheng
415-514-8655
[email protected]