Solving Puzzles in Clinic and Lab
Resident Stories: Renuka Nayak, MD, PhD
Hometown:

Education:

UCSF Medicine Residency Track:
Areas of Distinction/ Pathways to Discovery: 
Goa, India; grew up in Queens, New York
Swarthmore College: BA, Biology and Computer Science
University of Pennsylvania: MD and PhD, Cell and Molecular Biology
Categorical
Molecular Medicine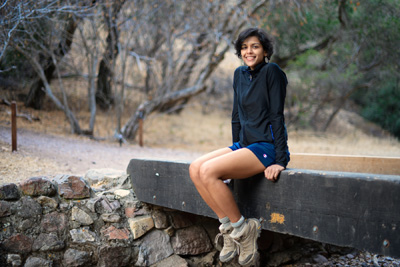 Tell me about your PhD research.
In college, I loved biology, and also developed an interest in computer science. I didn't think the two could be combined, but when it came time to pick what I wanted to study for my PhD, the genomics revolution was booming. The human genome had been sequenced, and labs were just starting to do things like microarrays.
My research looked at gene networks in human cells. An analogy would be Facebook: you can tell something about me because I'm connected to people in medicine and MD/PhDs, more than the average Facebook user. That approach can be used to learn about human genes, based on which other genes they are connected to. Instead of studying one gene or protein, I looked at thousands of genes at a time, and their interactions. It incorporated a lot of math and computational biology.
What made you decide to come to UCSF for residency?
"UCSF is an amazing institution for clinical training and basic science research."
UCSF is an amazing institution for clinical training and basic science research. A lot of institutions are great at one or the other, but not that many that are stellar in both. I was also interested in fast-tracking. That's an option for people with an extensive research background which allows them to complete an internal medicine residency in two years rather than three.
What have been some highlights?
Moffitt and the VA are referral centers for large catchment areas. They get really rare diseases coming through. For example, at Moffitt, we had a young woman who was transferred from another hospital with bad hypertension and a diagnosis of lupus. We determined that instead of lupus, she had scleroderma [a rare autoimmune disorder]. She also had a rare, life-threatening complication called scleroderma renal crisis – something you usually only read a small textbook paragraph about. Here, we saw it.
I learned that this complication could present in a way that isn't obvious. Doing a very thorough physical exam and talking to her referring doctors was important. Also, patients' symptoms can evolve over time. You have to be constantly vigilant. That means going back to your broad differential – always keeping an open mind, and questioning what you are told. What else could the patient have? It taught me never to anchor on the diagnosis you receive.
Other memorable moments?
Moffitt is one of the few institutions that has an open ICU. I was able to continue managing patients who became very sick and went into the ICU, with the ICU team as consultants. There was a patient with very bad respiratory disease who bounced back and forth between the ICU and step-down. He ended up having acute interstitial pneumonia. The way to diagnose it is by doing a bronchoscopy – taking a biopsy of the lungs. These are typically done when patients are intubated, so if it had been a closed ICU, I wouldn't have known that I had a patient with this disease. I learned about the mortality and treatment for this disease through caring for him. Learners learn best in the context of something they've actually experienced.
Were there any particularly inspirational faculty?
There are so many. Andy Lai was so good at writing down concrete "Goals for Today" on the whiteboards in patients' rooms. For a patient with a leg clot, Andy might write, "Get an ultrasound of your leg," or "Learn how to give yourself blood thinner." Andy is phenomenal at teaching and communicating with every member on the team, and that includes the patient.
Does anything else stand out?
UCSF is amazing at tailoring the curriculum to each trainee. When I came here, I thought I might want to do rheumatology, but those electives were usually reserved for second- and third-year residents. It was important for me to get clinical time within that field early on, because it was a career-changing decision that I'd need to make a few months later. The residency program director, Harry Hollander, said, "Don't worry about it – let me take care of it."
What are your future plans?
I start my clinical rheumatology fellowship here in July, then will do at least three years of research with a mentor. Long-term, I have the vision of seeing patients and continuing to do research.
How does your work in medicine and science relate?
Each patient is a puzzle. If you spend time talking with the patient, doing a good physical exam and judiciously ordering tests, often you can solve that puzzle. Science is a bigger, grander puzzle that allows you to investigate questions like, "Why is this happening in my patients?"
Anything else you'd like to say?
I love living in San Francisco, getting to hike and explore places like Mendocino and Lake Tahoe. Also, something that is culturally different here is that there's a real emphasis on being healthy. It's prompted me to go to the gym more often, which is easy because it's right across the street from the hospital.
UCSF has been the home of amazing discoveries and world-renowned clinicians and scientists in so many different disciplines. I've felt very supported, both as an East Coast transplant and a woman in science.