Developing the Whole Physician
Resident Stories: Sarah Schaeffer, MD, MPH
Hometown:

Education:


UCSF Medicine Residency Track:

Area of Distinction/ Pathway to Discovery:
El Paso, Texas
Boston University: BS, Human Physiology
Boston University: MPH, Social and Behavioral Sciences
New York University School of Medicine: MD 
Categorical

Clinical Research Track/Program in Residency Investigation Methods and Epidemiology (PRIME)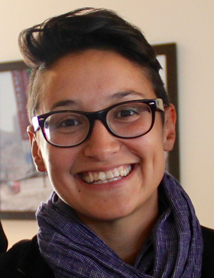 What made you interested in public health?
The summer after my freshman year of college, I went home to El Paso and did a clinic rotation in the nearby suburb of San Elizario. It's a small community of first-generation Mexican immigrants with variable access to electricity, clean water and safe sewage disposal. The clinic was in a double-wide trailer, and the physician and nurse practitioner who were working there said, "Problems like hepatitis A from water contamination exist in many of our patients. The most reasonable way to approach it is not to talk to each patient individually, but to get involved with making changes that will impact the whole community."
I was actually the first undergraduate student at Boston University to go through a new five-year BA/MPH program. I knew I would still pursue a career in medicine, but I really wanted that skill set to address health issues on a community level.
Why did you choose UCSF for your residency?
"I wanted a program that focused on resident education and development beyond just clinical care, and was interested in UCSF's Pathways to Discovery program."
I went to med school at NYU, and a huge part of my clinical training took place at Bellevue Hospital, one of the big public hospitals for New York City. Every patient gets treated, regardless of language, insurance or ability to pay. That was so valuable as a med student, and I was looking for a program that retained that broad variety of patients.
I also wanted a program that focused on resident education and development beyond just clinical care, and was interested in UCSF's Pathways to Discovery program. These are structured tracks that you can follow during your outpatient time, ranging from medical education to global health. I heard about fledgling programs at other institutions, but this was a long-established program.
Did you choose a Pathway?
I'm in the PRIME track – the Program in Residency Investigation Methods and Epidemiology, also known as "People Really Into Medical Epidemiology." I got to work with Dr. Mandana Khalili, the director of the San Francisco General Hospital Liver Clinic, on identifying barriers to care among African American patients at SF General. It was a great experience to dive into that during residency, and we're starting to submit to journals for publication.
What did you learn from that experience?
I found out that I'm most interested in doing population-level research that is going to improve patient care in real time for the people I'm seeing.
What have been some other valuable lessons?
We had the opportunity to work at the three hospital sites – I went from the County [Zuckerberg San Francisco General], which serves an uninsured or underinsured population, to the VA, which is a universal coverage system, and then to Moffitt, which is largely privately insured or Medi-Cal patients. On top of learning about different populations and diseases, I learned about different health systems and forms of insurance, which sometimes affects the care you are able to provide. Learning how to do what is affordable and feasible for your patient is a big skill set that I got from residency here.
Other highlights?
The most extraordinary thing has been my co-residents. Not only are they brilliant and accomplished – many had other careers, earned PhDs or taught in another country before coming here – but they are fun people who have become really close and important to me. My sister got really sick during my intern year, and I got so much support from my attendings and co-residents. People asked how I was doing, and offered to cover me for a shift.
I've also worked with the UCSF Department of Medicine's Residency Diversity Committee, which includes underrepresented groups in medicine, including people of color, LGBT and people with disabilities. It was exciting to develop more mentoring opportunities between residents and med students. We have also organized opportunities for senior residents to precept med students at community clinics serving day laborers, homeless patients and LGBT patients.
Do you have time for outside interests?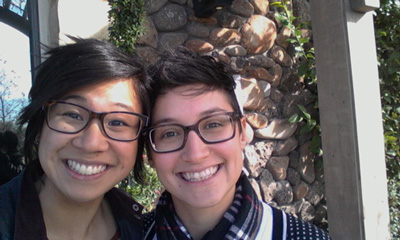 San Francisco is a great city. I enjoy hiking, biking and being outdoors. To have natural beauty around you is a good contrast to the fluorescent lights of work. I also met my partner, Jackie, during residency.