Patient and Family Advisory Councils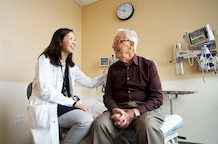 Nobody knows the patient experience better than patients and families.
Patients and their families are often the most knowledgeable members of the care team, and can offer unique perspectives and valuable feedback regarding their care experience.At UCSF we value the voice of the patient and caregiver on how care at UCSF can be improved and have a number of Patient and Family Advisory Councils at UCSF.
Topics of meetings may include feedback regarding the existing services, ideas regarding new innovative programs under development or raising awareness regarding the priorities or unmet needs of families and patients.
Interested in getting involved?
We have several different patient and family advisory councils at UCSF. Below is information about how you can get involved:
Ambulatory Care
The Ambulatory Patient and Family Advisory Council is comprised of patients who receive care in our outpatient clinics and are passionate about improving patients' experience of care at UCSF. The group collaborates with UCSF leadership and innovation teams on a wide range of projects. Past efforts include design, review, collaboration, and input into Video Visits, MyChart, and future digital tools and portals, and the creation of patient-centered design principles for clinic construction and remodeling.
If you have ideas and are passionate about improving care at UCSF, please contact Mac Moody ([email protected]) to discuss the Council. 
General Internal Medicine Clinic
Hospital Medicine Inpatient Team
UCSF Medical Center and our Division of Hospital Medicine are actively working to strengthen our care teams and improve care for patients admitted to the Inpatient Medicine Service. Despite recent strides, we know there are many things we can do better. To further our efforts toward improving patient-centered care, the Division of Hospital Medicine has started a Patient and Family Advisory Council (PFAC)  - a group of patients, family members and caregivers who, together with our dedicated staff, will work in partnership to ensure that your voice is heard and that your needs and concerns are the focus of changes moving forward. If you have experience with our Inpatient Medicine Service and are interested in joining our dynamic, diverse group of patients, family members and caregivers, please contact us at [email protected] - we would love to have you involved!
UCSF Helen Diller Cancer Center