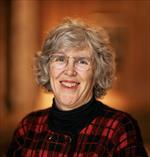 Elizabeth Murphy, MD, PhD
M_MED-ZSFG-ENDO
Professor
1001 Potrero Ave, SFGH 100
San Francisco, CA 94110
415-206-3804


Elizabeth Murphy, MD, DPhil, is Chief of the Endocrinology and Metabolism Division, Director of the Diabetes Center for High Risk Populations and Specialty Lead of the eReferral Program at San Francisco General Hospital and a Professor of Clinical Medicine at the University of California, San Francisco.


As Chief of the Endocrinology and Metabolism Division at SFGH, Dr. Murphy's work has focused on improving access and quality of endocrinology and diabetes care for low income, diverse populations in the San Francisco safety net. As Director of the Diabetes Center for High Risk Populations, she has led the development of novel services such as medical group visits for insulin initiation in English and Spanish, low literacy insulin teaching aids for patients, medication management algorithms for primary care, and targeted outreach to SF County Jail patients. Her team's efforts in health disparities were recognized by the American Diabetes Association's Promising Practice Award of Excellence in 2012 and were an integral part of the Healthy San Francisco Chronic Care Redesign Program recognized by the National Association of Public Hospitals' Safety Net Award in 2010.


Through her work as Specialty Lead of the eReferral program, Dr. Murphy has been instrumental in standardizing the role of the specialist reviewer with an emphasis on improving primary-specialty care communication. In addition she has worked with the Endocrine Society on improving the referral process as part of the ACP High Value Care Coordination Project.


Previously, Dr. Murphy served as the Chief Medical Officer of KineMed, Inc, a biotechnology company focused on the use of stable isotope technology to measure kinetic processes for drug development. There she was responsible for in vivo human studies in diverse areas including insulin resistance and diabetes, lipid metabolism, chronic lymphocytic leukemia, prostate cancer, and bile acid kinetics.


A practicing endocrinologist, Dr. Murphy received the UCSF/San Francisco General Hospital Department of Medicine Subspecialty Consultant of the Year Award in 2011, the John Karum Clinician Educator Award in 2011 for her work with UCSF endocrinology fellows and in 2015 was named a Master Clinician in the Department of Medicine.


Dr. Murphy received her BA in Chemistry from Wellesley College, a D.Phil. in Biochemistry from Oxford University as a Rhodes Scholar, and MD from Harvard Medical School in the Harvard-MIT affiliated Health Sciences and Technology program. She completed her internal medicine residency and endocrinology fellowship training at UCSF.
Related Web Sites
Recent Articles (46)
Select data provided by UCSF Profiles, powered by CTSI at UCSF. Learn more about the data source.