Academic,
Conference,
Grand Rounds,
Lecture/Seminar
Medicine Grand Rounds - Drs. Auerbach, Neinstein, and Khanna
Improving EHRs through integration: Tactics, strategies, and good ADvicE
-
505 Parnassus Ave
HSW-300
San Francisco, CA 94143
United States
View on Map
Andrew Auerbach, MD,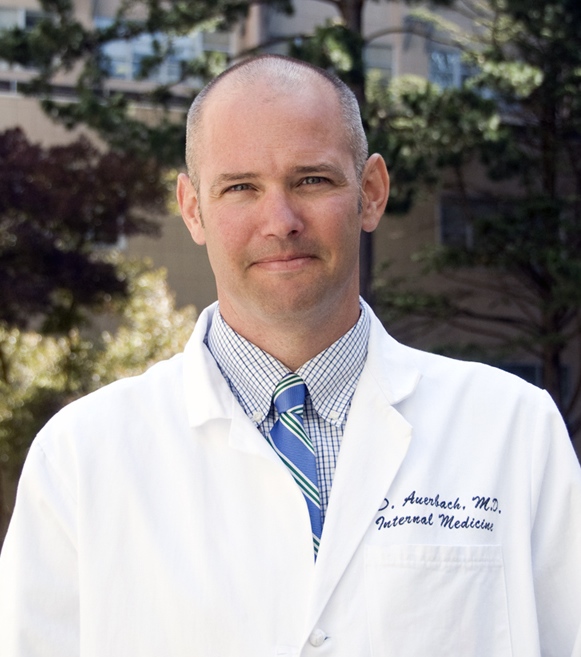 MPH is Professor of Medicine at the University of California San Francisco School of Medicine, in the Division of Hospital Medicine, where he is the Chair of the Clinical Content Oversight Committee for UCSF Health, the operational group responsible for developing and implementing electronic health record tools across the UCSF Health enterprise.
Dr. Auerbach is a widely recognized leader in Hospital Medicine, having authored or co-authored the seminal research describing effects of hospital medicine systems on patient outcomes, costs, and care quality.  He leads a 13-hospital research collaborative focused on new discoveries in healthcare delivery models in acute care settings, and continues an active research mentoring program at UCSF.  In addition, Dr. Auerbach serves as Editor in Chief of the Journal of Hospital Medicine, the flagship peer-reviewed publication for the field of Hospital Medicine. Dr. Auerbach's research has been published in prominent journals including the New England Journal of Medicine, JAMA, Annals of Internal Medicine, and Archives of Internal Medicine. He has received the Mack Lipkin Award for Outstanding research as a fellow, and the Western Society for Clinical Investigation Outstanding Investigator, and is a member of the American Society for Clinical Investigation.
Aaron Neinstein, MD is Assistant Professor of Medicine in the Division of Endocrinology and Metabolism and Director of Clinical Informatics at the UCSF Center for Digital Health Innovation. He is board-certified in Internal Medicine, Endocrinology, and Clinical Informatics, maintains an active clinical practice in Endocrinology, and was an inaugural inductee as a Fellow of the American Medical Informatics Association (FAMIA). Dr. Neinstein believes in empowering patients and physicians to access, share, understand, and use health information in day-to-day care, including outside of traditional healthcare settings. He has devoted his informatics career to advancing health policy and creating tools that facilitate connected, collaborative care as well as ecosystems that enable integration of innovative software into care delivery workflows. He helped lead UCSF's Epic EHR implementation and optimization and was on the founding team of Tidepool, a non-profit that creates open-source software to empower people with diabetes. At the UCSF CDHI, he leads a multi-disciplinary team focused on digital transformation of care delivery at UCSF, development and commercialization of novel technologies, and enablement of the national digital health ecosystem. He majored in American Studies at Northwestern University, graduated Alpha Omega Alpha from the Keck School of Medicine of USC, and did his Internal Medicine residency and Endocrinology fellowship at UCSF.
Raman Khanna is an Associate Professor of Clinical Medicine at UCSF and Medical Director for Inpatient Informatics at UCSF Medical Center.
He received his BA and MD, and subsequently completed his residency, at Northwestern University, following which he completed a research fellowship and Masters in Clinical Research at UCSF. 

Raman's work centers on the design and implementation of information technology applications in health care. He has an appointment in the Center for Digital Health Innovation (CDHI) where he works primarily on CareWeb, a project to transform clinical communication within and between providers and their teams. He is also currently on the ASCENT project where he is codirecting an effort to improve followup for subcritical lab and radiology results in a safety net setting. He spends the majority of his time on the APeX Electronic Health Record (EHR) team, where he works to implement EHR modifications and customizations for UCSF Health as well as to make the EHR more interoperable through the Digital Diagnostics and Therapeutics Committee, which he co-chairs.
To access MGR live streams and current semester recordings, please visit ETS here: DOM Medical Grand Rounds.