2022-2023 Chief Medical Residents
UCSF Medical Center
Shirley Chan, MD
Shirley is a proud lifelong Bay Area resident. She grew up in Cupertino where she spent many nights and weekends at her family's Chinese martial arts studio, and in the summers she often lived with her family in Hong Kong. She attended the University of California, Berkeley, majoring in molecular and cell biology. After a year of doing quality improvement work at Stanford, she attended the UC Berkeley-UCSF Joint Medical Program for medical school, where she completed a master's thesis in care transitions and developed a community-based health coaching program for older adults as an Albert Schweitzer fellow. Shirley was fortunate to join the UCPC primary care track for residency, where she was involved in several quality improvement projects and co-led the Work Hours Task Force to develop NET Rounding, a rounding efficiency tool. Shirley aspires to become an academic generalist and enjoys quality improvement, medical education, and health administration. In her free time, you can find her making sourdough and various desserts, watching TV, cheering for the Warriors, traveling, and enjoying time with her family and friends.
Anna Fretz, MD
Anna Fretz grew up on Vancouver Island, British Columbia exploring the great outdoors. She attended UC Berkeley where she majored in Public Health with a focus on epidemiology and minored in Global Poverty and Practice. She continued her training at the Johns Hopkins School of Public Health, where she received her Master of Health Science in Epidemiology. There, while also teaching yoga on the side, her interest in clinical epidemiology flourished. Her research focused on the use of biomarkers in predicting health outcomes. Following this, she completed medical school at Dartmouth College before moving back to the West Coast for residency. In residency, Anna was a member of the PRIME pathway and a team member of the Clinical Problem Solvers. She has a particular interest in diagnostic reasoning and building equity in the educational environment.

When not at work, Anna loves to spend her time doing anything outside — hiking, biking, skiing, wind surfing, and kite boarding. In San Francisco, you can find her with her dog walking up Mount Sutro, in Golden Gate Park, or down on Ocean Beach pretty much every day. Anna aspires to have a career as a clinician educator in the field of pulmonary and critical care medicine.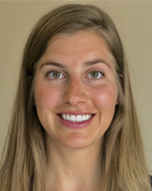 Viridiana Garcia, MD
Viridiana was born in Chihuahua, Mexico and grew up in Phoenix, Arizona. She attended Arizona State University where she studied Biological Life Sciences and minored in Psychology. She then completed a master's degree in Science of Health Care Delivery. After college, she moved to New York City where she worked at a clinic focused on developing academic learning plans for students. She attended medical school at the University of Arizona in Tucson and then joined UCSF for Internal Medicine Residency. As a UCSF resident, Viridiana joined the Health Professions Education Pathway where she developed a passion for medical education. After chief year, she hopes to pursue a career as an academic hospitalist with an emphasis on clinical education. Outside of medicine, she enjoys traveling and exploring the outdoors with her husband and son.  
VA Medical Center
Ngoc-Bao Le, MD
Bao was born in Saigon, Vietnam, and moved to Houston, Texas at the age of one. He ventured out West for college and attended Stanford University where he earned a B.A. in Human Biology. He remained in the Bay Area to complete medical school at the UCSF School of Medicine and ultimately stayed for his Internal Medicine residency as well. As a resident, Bao joined the PRIME clinical research pathway to pursue his research interests in cardiovascular disease and patient outcomes. He has a special interest in incorporating graphic/digital design into medical education and aspires to one day become an academic cardiologist with a clinical focus in heart failure. Outside of medicine, Bao enjoys working out, exploring the SF food scene, and spending time with his friends and family. 
Diana Partida, MD
Diana grew up in Los Angeles and completed her undergraduate degree at Pomona College, graduating with a major in Molecular biology and minor in History. After college, she returned to her hometown to work with the department of Infectious Diseases at Harbor-UCLA, the county hospital where her family had previously received care. Shortly after, she attended medical school at UCLA through the Charles R. Drew Medical Education program dedicated to addressing health disparities. As a resident at UCSF, Diana was a member of the PRIME Clinical Research Pathway, analyzing education outcomes as part of a novel onsite shelter-based Hepatitis C care for persons experiencing homelessness, and also served as co-chair for the Residency Diversity Committee. She plans on pursuing a career in academic gastroenterology with a focus on medical education. Outside of the hospital, Diana enjoys hiking, salsa dancing, cooking, spending time with friends and family.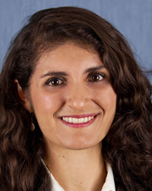 Amy Pugh, MD
Amy grew up in Charlottesville, Virginia with her two sisters. She attended Davidson College, where she studied economics. She worked in health economics for two years in the Research Triangle area in North Carolina before coming out to the West Coast to attend medical school at UCSF. During residency, she was part of the health systems leadership (HSL) pathway, and she worked on quality improvement projects including a project to improve documentation about alcohol use. She was also co-chair of the residency Well-Being Committee and focused on building community by supporting residents to connect outside of work. Her clinical interests include primary care, geriatrics, and home-based care. She also enjoys running, trying not to overwater her plants, reading science fiction, and cooking beans with friends. 
Zuckerberg San Francisco General
Catherine Crawford, MD
Despite having lived in many cities, Cati considers herself a Chicagoan by way of southern California and Dusseldorf, Germany where she spent much of her childhood. She graduated from Pomona College with a degree in Public Policy Analysis and subsequently worked at the National Human Genome Research Institute in Washington, DC. She continued eastward for medical school in New York City where she championed narrative medicine initiatives and graduated with a distinction in medical education for her development of curricula in activism, resilience, and adolescent health. During residency, Cati led quality improvement projects to improve communicable disease (HIV, HCV) and mood disorder screening for patients at San Francisco General Hospital. Now, as a proud graduate of UCSF's San Francisco Primary Care track, she hopes to use her training to reduce disparities in healthcare delivery for vulnerable populations, especially for patients with substance use disorders. When not at work, Cati can be found biking to coffee shops, making pottery, or spending time with her partner and cats (Appa and Momo).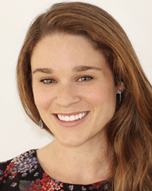 Jessie Holtzman, MD
Jessie was born and raised in San Francisco, California and attended Stanford University for college, where she earned a BA in Human Biology. She subsequently completed a Fulbright Scholarship in Buenos Aires, Argentina prior to attending Harvard Medical School. In medical school, she developed her passion for medical device regulation and clinical research in cardiology. As a UCSF resident, Jessie joined the Program in Residency Investigation Methods and Epidemiology (PRIME) track, investigating equitable enrollment of women in cardiovascular trials, and led the GME-wide Women in Leadership Development (WILD) organization. She also joined the CardioNerds podcast academy as a Chief Fellow, with the goal to democratize cardiovascular education through multimodal, free, online educational content. Ultimately, Jessie aspires to be an academic cardiologist with an emphasis on women's cardiovascular health, medical education, and policy making. In her spare time, Jessie loves kayaking on the San Francisco Bay and exploring the vast culinary options of San Francisco.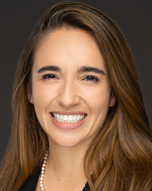 Veronica Manzo, MD
Veronica grew up outside of Sacramento, California. As an undergraduate at Harvard, she studied Neurobiology and conducted research in Glioblastoma. After college, she worked at the Broad Institute/Dana-Farber Institute to build upon her knowledge of genetics. She attended Stanford University for medical school and obtained a master's degree in Clinical Research and Epidemiology. At UCSF, she was in the PRIME program and plans to apply to Cardiology Fellowship after Chief year. When not at the hospital, Veronica enjoys trying new cooking recipes (Chef John and Kenji Lopez-Alt are sources of inspiration), hiking and playing tennis with her husband in Golden Gate Park.